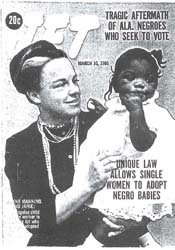 It's National Adoption Awareness Month in case you haven't noticed. Of course while most people blog and state pretty quotes (and I love them too) some places/blog posts are more hesitant to be overly promoting single parent adoptions and the comments thereafter are usually very spicy in nature. Seeing some of the comments it inspired me to go digging around for a brief history if any about when single parent adoptions became more accepted. I found an interesting site called the
Adoption History Project
and it has little narratives about different aspects related to adoption in general. I found some of the narratives quite fascinating...fascinating enough to visit my local library to check out books related to some of these topics.
I don't agree with the last paragraph, quite possibly because my experience with social services was top notch, however, I found the narrative fascinating. Read about single parent adoption history
here
.
*Disclaimer* While the Internet is a wealth of information, I still advocate one researching on deeper level if one finds an area of interest. This may involve reading books that may not be the most interesting, but it's a far better way of getting more accurate information. These tidbits of online information I feel are just a spring board into a pool of knowledge.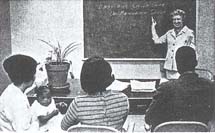 (LA county training for prospective single parents in the 60s)